The World of Philanthropy
The United States is the most generous nation in the world, according to the World Giving Index 2011, published by the U.K.-based Charities Aid Foundation. The study surveyed three self-reported giving behaviors—giving money, volunteering time, and helping strangers—among some 150,000 people in 153 countries. Many of its findings are quite interesting. If anything, it understates American generosity by obscuring how much Americans give, either absolutely or per capita as a proportion of income. Of the seven most generous nations on earth, all but one (the Netherlands) are Anglophonic. There does not appear to be a strong correlation between prosperity and generosity: Singapore, ranked 3rd in 2010 GDP per capita by the International Monetary Fund, is the 91st most generous nation on earth, while Hong Kong, ranked 7th in GDP per capita, came in as the 11th most generous. Australasia is the world's most generous region, barely edging out North America, while Eastern Europe is the least generous. One finding is especially encouraging. The proportion of respondents engaged in giving behaviors increased slightly between 2010 and 2011. Despite the global economic turmoil, the world, it appears, is becoming more charitable.
Bearing Fruit
Francisco J. Ayala recently pledged a $10 million donation to the School of Biological Sciences at the University of California, Irvine. What makes the gift somewhat unusual, however, is that it comes from a full-time U.C. Irvine faculty member. One of the world's leading molecular biologists, Ayala is a member of the National Academy of Sciences and the author of more than 40 books and some 1,000 articles. His research interests range over evolutionary genetics, with particular interests in reconstructing evolutionary history and applying that knowledge to the treatment of malaria and other parasitic diseases. (Ayala also owns more than 2,000 acres of vineyards in California's Central Valley, where every year he produces over 14,000 tons of highly regarded Chardonnay, Pinot Noir, and Zinfandel grapes.) The $10 million pledge is intended to endow a dean's chair and four new research chairs. It is not Ayala's first seven-figure-plus gift to the school. In 2010, Ayala won the Templeton Prize for "his achievements as an evolutionary geneticist and for his opposition to the entanglement of science and religion while also calling for mutual respect between the two." He immediately donated the $1.5 million prize to U.C. Irvine, to help recruit top-tier graduate students in the life sciences. "This university has been very good to me," Ayala explained to the Los Angeles Times. "I have enjoyed my students and colleagues—this is a way of expressing my gratitude."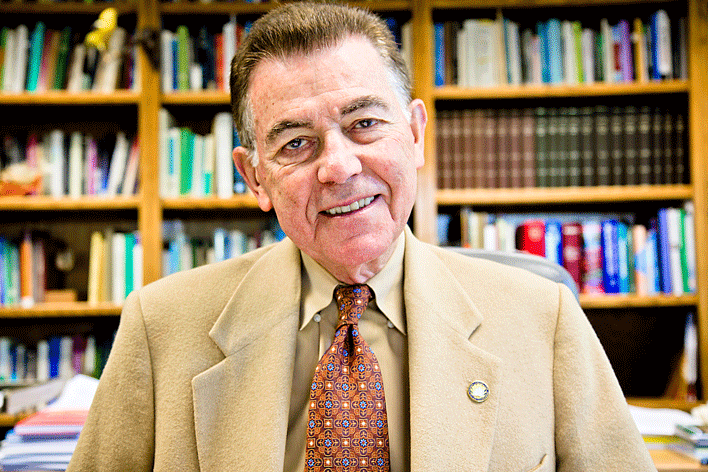 Francisco Ayala
The Anonymous Donor—Almost
On Friday, December 16, Cornell University announced that the school had received the largest gift in its history: $350 million, from an anonymous donor. The donation was intended to help Cornell secure a bid to construct a graduate school in the applied sciences on Manhattan's Roosevelt Island, just south of the Queensboro Bridge. It worked. Three days later, Mayor Michael Bloomberg announced that Cornell University, partnering with Technion-Israel Institute of Technology, had won the right to build the $2 billion facility on 11 acres of city-owned land. That evening, the identity of the anonymous donor was confirmed. He is an 80-year-old Cornell alumnus, who enjoyed a spectacular career in retailing duty-free goods. Committed to the principle of "giving while living," he has given away approximately $5 billion through his Bermuda-based foundation. Four years ago, it was revealed that this particular philanthropist had, through 2007, given Cornell nearly $600 million. With total gifts of about $1 billion, not a single building on the Cornell campus bears the donor's name: Charles F. Feeney.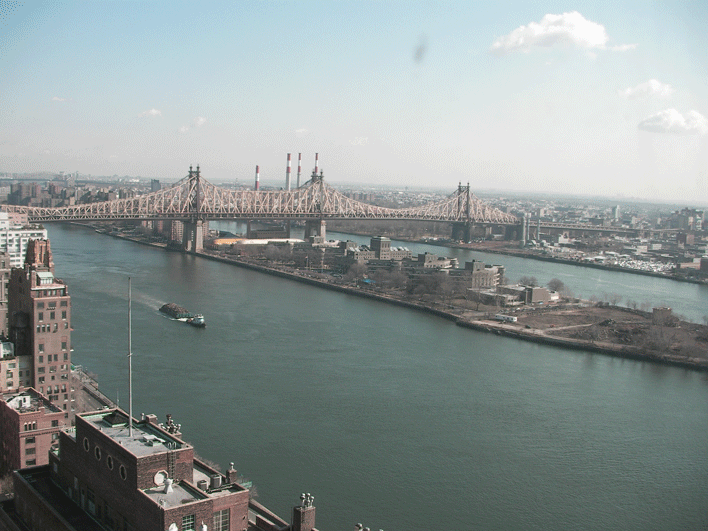 Roosevelt Island
The Anonymous Donor—Perhaps
"Was there any topic or question that you asked [Steve Jobs] about that he wouldn't discuss?" Adam Lashinsky asked. Across from Lashinsky sat Walter Isaacson, author of the best-selling biography Steve Jobs. The audience at San Francisco's Commonwealth Club leaned forward. Isaacson answered with a single word. "Philanthropy." Isaacson continued: "It was the one thing I couldn't crack. I don't know what he did philanthropically, what he did was not public.
. . . [Regarding] Bill Gates' Giving Pledge, when Bill Gates was calling him and calling him to do it, he said, 'Nah, I'm not going to do that.'" (Elsewhere, Isaacson recalls Jobs telling him, "Bill Gates was better at philanthropy [than at business] because he didn't care about making great products.") Further complicating the picture is the fact that Jobs' widow, Laurene Powell Jobs, has long been a visible leader in K–12 philanthropy. Perhaps Jobs was equally involved, but preferred to give away money anonymously. Then again, maybe he wasn't. One benefit of anonymous philanthropy is that the gift remains a secret between donor and recipient, removing the suspicion that the donor is acting out of a desire to be known for his generosity. But that benefit has a cost.
Julius Rosenwald once remarked that public philanthropy can be a form of leadership, that generosity has a way of inspiring more generosity. Is this relevant to Jobs? We will probably never know.
The Mega-gifts of 2011
The Chronicle of Philanthropy has released a list of the largest charitable gifts by individuals in 2011. Topping the list is Alice Walton, who gave $800 million to the Crystal Bridges Museum of American Art in Bentonville, Arkansas. Her contribution is followed by Charles Feeney's $350 million gift to Cornell (please see page 2), who is in turn followed by William S. Dietrich II's $265 million bequest to Carnegie Mellon University. The list is comprised of 12 gifts, 11 of which are larger than $100 million. The beneficiaries fall under three broad headings: higher education (e.g., Cornell, Carnegie Mellon), arts and culture (Crystal Bridges, Virginia Museum of Fine Arts), and medical education and research (University of Pennsylvania, Mayo Clinic). Nothing terribly surprising about that: these three areas have long relied on private philanthropic support. Perhaps it is coincidental that the United States remains globally dominant in the fields of higher education, arts and culture, and medical education and research.
Dollars to Euros
George Soros revealed plans to increase his philanthropy in Europe in a recent interview with Andrew Jack of the Financial Times. "When you pull the economic rug, you pull the underpinnings of the welfare state," he explained. "When people are frustrated and angry, then minority rights and more vulnerable populations take the brunt of that." Soros linked the increased focus on Europe with his plans to restructure his Open Society Foundations, with the appointment of Christopher Stone as president. "The principles of open society are under attack in the developed world," Soros said, which "is facing a deflationary trap liable to lead to a period similar to the 1930s Great Depression. That was a period of great stress and threat to open society. I think there is a similarity, unfortunately, that we are in now." Of course, Europe has benefited greatly from Soros' philanthropy in the past. Throughout the 1970s and 80s, he was a major funder of dissident groups behind the Iron Curtain. Among his many other achievements—sending hundreds of copying machines to samizdat presses, tens of thousands of books to Hungary—he was the single largest funder of Charta 77, as well as a friend and patron of its recently deceased leader, Václav Havel. 
Cooperman's Case
"I spend more than 25 times on charity what I spend on myself," explained Leon Cooperman in a December interview with the New York Times. Cooperman made headlines on November 28, when he issued an open letter to President Obama. In his letter, the self-made billionaire (and Giving Pledge signer) called on the president to stop disparaging the wealthy. "Capitalism is not the source of our problems," wrote Cooperman, and "capitalists are not the scourge that they are too often made out to be. As a group, we employ many millions of taxpaying people, pay their salaries, provide them with healthcare coverage, start new companies, found new industries, create new products, fill store shelves at Christmas, and keep the wheels of commerce and progress (and indeed of government, by generating the income whose taxation funds it) moving." Set aside the politics of the letter, about which reasonable and principled people may disagree. The episode offers a bracing reminder about the moral and logical priority of wealth creation to philanthropy. The letter, like the example of Cooperman himself, makes a powerful case for a vitally important principle: a vibrant private sector generates the wealth that makes philanthropy possible.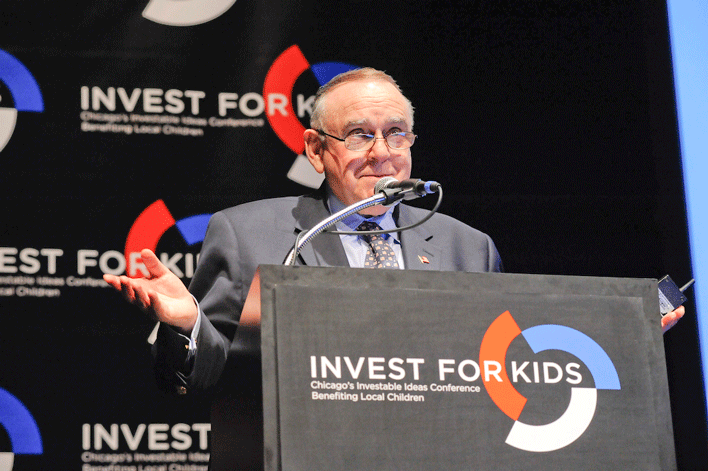 Leon Cooperman
Why Not "Collaboraction"?
Recent research has revealed multiple impact-maximizing neologisms. Among the innovative and synergistic dialogue-enhancers are such terms as "shape-shifting," "collaborative impact," and "#." Experts suggest that the strategic deployment of leading-edge terminology can leverage outcome-focused effective collaboration within the philanthropic sector, although to what extent remains inconclusive. (Roughly translated: The Chronicle of Philanthropy recently ran an article listing the top 10 philanthropy buzzwords of 2011. Among its choice samplings were words like "shape-shifting," "collaborative impact," and "[unintelligible]." Some people seem to think that speaking philanthropese leads to better charitable giving. Others disagree.) It's a fun list, and well worth reading. Congratulations to Lucy Bernholz for compiling it, and to the Chronicle for running it. In the meantime, we at Philanthropy will do our best to stick to plain words and clear thinking.
Frederik Meijer, RIP
Frederik Meijer never liked being called a billionaire. Yes, he was worth $5 billion, and yes, he ranked 60 on the 2011 Forbes 400. But he preferred to go by Fred, just like he did when he delivered milk from the family farm, and just like he did when he bagged groceries at his father's store in Greenville, Michigan. There he met Lena Rader, a farm girl who worked as a part-time cashier. They married in 1946, and soon moved to Grand Rapids, where they raised their three boys in a modest ranch home. In 1962, Fred had an idea that would revolutionize retail sales. What if, he proposed, we combine a grocery store with a department store? Thus was born the first Thrifty Acres superstore, where a full stock of perishables shared aisle space with a massive variety of dry goods. Meijer developed the supercenters—today known simply as Meijer—across the Midwest, scaling the chain to nearly 200 stores with some 60,000 employees and annual sales of over $15 billion. With his success, Meijer devoted himself to his beloved western Michigan. He funded two of the region's most popular tourist attractions, the Frederik Meijer Gardens and Sculpture Park in Grand Rapids and the Fred Meijer Heartland Trail network. He was a great supporter of Grand Valley State University, WGVU public radio, Calvin College, as well as local hospitals, theaters, and other community institutions. The day after Thanksgiving—Black Friday, the busiest shopping day of the year—as he was preparing to visit local Meijer stores, Fred suffered a fatal stroke. Thousands attended his funeral; the service was broadcast live on local stations. Meijer considered closing all its stores to honor its chairman emeritus. It settled instead on a moment of silence. Fred wouldn't have wanted to inconvenience anyone.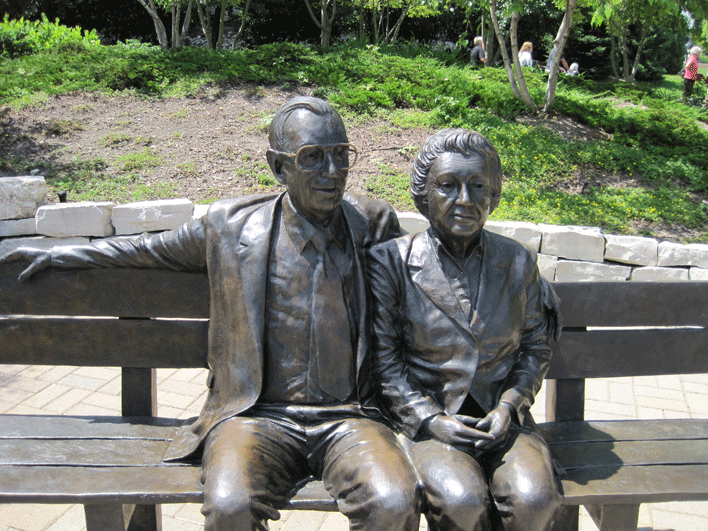 Statue of Fred and Lena Meijer at the sculpture park that bears Fred's name.
Editor's Note
"Right now, just over one billion people—about 15 percent of the people in the world—live in extreme poverty," writes Bill Gates in his 2012 Annual Letter. But, he continues, "15 percent of the world in extreme poverty actually represents a big improvement. Fifty years ago, about 40 percent of the global population was poor."
Gates credits the decline of extreme poverty to the Green Revolution, a series of agronomic advances in the 1960s and '70s that vastly increased crop yields and dramatically slashed food prices. With support from the Rockefeller and Ford foundations, Norman Borlaug and a small team of researchers undertook a project that by some estimates saved approximately one billion lives. It was perhaps the most consequential 20th-century achievement of American philanthropy—yet virtually none of its beneficiaries were American.
This year marks the 200th birthday of American international philanthropy. In February 1812, five young men and women boarded the Caravan, headed for Calcutta. They intended to perform mission work and evangelization in the Far East. Supported by Congregationalist churches and generous individuals, they were the first citizens of the young republic to go abroad in the service of their fellow man.
To this day, American philanthropists remain excited by the challenges and opportunities of assisting those abroad. They are helping to build schools, eradicate diseases, resolve conflicts, empower entrepreneurs, and bring comfort to those in distress. We dedicate this issue of Philanthropy to donors involved in international giving.
—Christopher Levenick