Chi-Dooh "Skip" Li likes to tell of an airline agent who once said to him, "You just handed me an American passport that says you were born in India. You're talking to me in Spanish, but you look Chinese. What are you, really?"
"I told him I wasn't sure, and we both had a good laugh," Li writes. The agent might have scratched his head even more if Li had told him what he was up to—traveling to war-torn Guatemala on a wing and a prayer in response to a divine nudge.
But over the next 30 years, Li would help more than 1,000 peasant farm families become landowners, a previously unfathomable dream for the poorest of the poor in Central America. His nonprofit Agros (based on the Greek word for "field") would arrange the purchases and front the capital. Over time, the families would pay Agros back, earning full title to the land and changing the entire trajectory of their lives.
Like Guatemala in the 1980s, Li's own life had once been thrown into chaos by revolution. His memoir, Buy This Land, describes how being kidnapped as young boy helped him escape the communist takeover of mainland China. As a child he bounced from one country to the next, at times as a diplomat's son and at others as a refugee. He eventually became a lawyer in Seattle, where he was captured again—by a vision for privately funded land reform in Latin America.
Lend to own
It was 1982. An Argentinean pastor guest-speaking at his church made an offhand comment about the impact Christians might have on the then-roiling region of Central America. What if believers bought land for the poor who were being threatened by communist revolutions? Unable to get the challenge out of his mind, Li set off for Guatemala with little more than his faith and some rusty Spanish.
What he saw there, and heard from aid workers, spurred on Li. People who farmed land they could never own were highly vulnerable, with little opportunity to work toward a better future. But this could change. "Ownership was the key," Li writes. "It all boiled down to this essential fact."
It wasn't long before Li surprisingly found himself invited to the presidential palace for a U.S. government presentation on a land reform program. The agency hoped to connect poor Guatemalans to the soil, but it would take 12 bureaucratic steps involving the U.S. Congress and national banks. Li spoke up and sketched out his private two-step approach: Donors secure the land and then distribute it directly to the poor.
Guatemala's President Efraín Ríos Montt was supportive and encouraged them to start with a particular 8,000-acre spread. Li feared that the price, the massive scale, and entanglements with a shaky political regime could soon lead to failure. Instead, Agros began with an 800-acre plot. The new nonprofit stabilized the title to the land by paying back taxes, and offered loans so families could buy their own plots to live on and farm. Agros also funded charitable services to make the people healthier and the land more productive. And despite guerrilla attacks, the Buen Samaritano project survived and eventually thrived.
When most of the loans were repaid, the first Agros "title ceremony" was held there in 1995, a celebration for those who now formally possessed the keys to their own castles. Living up to their village name, the Buen Samaritanos decided to use the money they once devoted to repayment to buy additional land so that more families could have the same opportunities.
Meanwhile, Agros began to purchase tracts elsewhere, expanding beyond Guatemala to Nicaragua, El Salvador, southern Mexico, and Honduras. Over time, the organization has started other programs in the communities it serves. The model is still "built around land," says Don Manning, current president of Agros, but it now combines property ownership with health services, agricultural husbandry skills, microloans, and help in establishing access to markets, both local and international. (The coffee their farmers grow makes its way into many U.S. stores, and if you are a fan of Tabasco sauce you may have dashed on some heat that had its roots in Agros land.) Education opportunities for farmers and their children have also been emphasized.
From the beginning, Agros has purposely avoided political activism, despite temptations to hitch its wagon to various Central American leaders and stateside pressure from well-meaning friends to weigh in on U.S. foreign policy. "Each Agros village," Li writes, "is a powerful political statement in itself that the poor have a right to live with honor and dignity." That was enough politics without trying to pick the white hats out of an often complex and stormy sea of gray.  This is not to say that Agros is blind to political realities, which it must navigate as a practical matter.
In Mexico, for instance, the Agros model runs parallel to the ejido tradition, communal tracts of farmland parceled out by the government. Agros firmly holds that villagers must be willing to invest in and pay for their own land, an idea that has encountered some resistance. But others have accepted the bargain, and diligently worked to earn their property.
In Nicaragua, where revolutionary Sandinistas cycle in and out of power, Manning says the Agros projects mostly escaped notice when there was just a 100-person village here and there. Now that Agros is expanding there, however, it is attracting more attention—and for the most part, mayors and local leaders love it. They see their constituents' lives radically improving, and find it is in their own interest to support the program.
Manning recalls a young woman at the first title ceremony he attended who, with assistance from Agros, had been able to attend a local university. She lived with her family and would take a bus back and forth to class, returning at night to run a literacy program in the village. "She had literally taught her father how to read and write," says Manning. When her parents received their land title, her father pulled out and delivered a beautiful speech that he had penned himself.
Today, almost 10,000 people in 42 communities spread over 11,000 acres have directly benefited from an Agros project. Already, a third of the households with land loans have completed repayment and earned full title.
It remains a trying time for people in Central America. The current regional threats are more from drug cartels than political revolutionaries, but the resulting violence and poverty are much the same. According to the World Bank, in Nicaragua over 40 percent of the population is in poverty and only 68 percent of the rural population has access to a safe water source. In Honduras, two thirds of the population is impoverished.
The average beneficiary of an Agros investment comes into the project living on 50 cents a day. Their lives often change dramatically. According to recent surveys in Honduras and Nicaragua, 92 percent of Agros village members have access to safe drinking water, 93 percent of the children are in school, 84 percent are living in quality housing, and 100 percent have access to an income-producing asset—namely land. That last statistic is central to the others.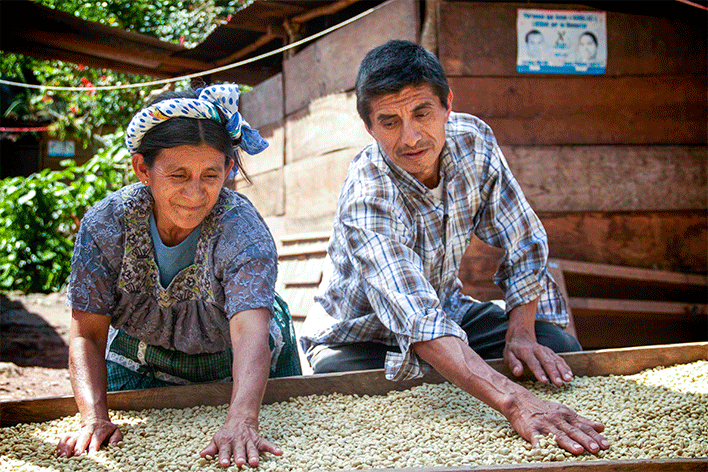 From this small seed
Much of the early seed money for Agros came from a tithe fund that Skip Li established at his small law firm. This was augmented by a $5,000 grant from the nonprofit World Concern, a $10,000 gift from Frank and Patti Holman, and early and consistent support from friends in the Seattle business community. Another jolt of energy came later, from caffeine.
In 1996, Don Valencia was talked into joining the Agros board. As head of research and development at Starbucks, he could not find much time for extracurricular interests and was something of an absentee board member, until a fateful 1998 trip to El Salvador.
The aim was to explore a potential joint venture with Habitat for Humanity, another organization that recognizes the value of ownership. The Salvadoran branch of Habitat had housing expertise, but also internal restrictions against purchasing land. That was just the niche that Agros knew how to handle. Could they join forces? The price tag, though, was daunting for a small nonprofit like Agros: $200,000 to buy a 264-acre parcel.
Valencia was planning to resign from the Agros board and viewed this trip as his swan song. But he was deeply moved by the needs he encountered. In a matter of months he did resign—from Starbucks. He and his wife funded the entire cost of the El Salvador purchase, and he dedicated himself to Agros, stepping up as co-chairman of the board. During his tenure, he helped set a course that pushed the organization's budget from $65,000 per year to the $4 million operation it is today. That crescendo of service would turn out to be the finale to Don Valencia's life. Cancer took him in 2007.
Others picked up where he left off. Enter Joel Dobberpuhl, a Tennessee hedge-fund manager and part owner of the NHL's Nashville Predators. Much as he loves talking hockey, Dobberpuhl gets even more excited when describing what he calls the "only home run I've hit in the last 20 years." It happened on a field of dreams scratched out of the Nicaraguan forest.
The Peter Hawkins Dobberpuhl Foundation, started by Joel and his wife, Holly, to honor the memory of their son who died as an infant, funded the multimillion-dollar purchase and development of 1,300 acres at a site called Tierra Nueva (New Earth). That land is putting 150 families on a firm path beyond poverty. Another 650 families in the area will benefit from the agricultural expertise of Agros and an improved regional water system associated with the venture.
In finance, Joel honed his ability to find opportunities in out-of-the-way places. He has redirected more of his expertise to the charitable sector in recent years. The foundation is especially keen on so-called "social-impact investing" and other modes of philanthropy that can produce some return of capital. This allows money to be recycled into the undertaking, thereby extending the breadth or lifespan of the effort.
Social-impact investing fit well with the Agros model, where one of the central founding principles was repayment. For the poor, Li writes, "Dignity does not come through handouts, but by achieving something as significant as land ownership by the sweat of their labor." The repayments made by the occupants of the land do not equal the total investment made by Agros—which usually includes not only land but certain services, sometimes housing, maybe irrigation systems. But the payback is substantial, and invaluable both to the participants' psychology and the organization's financial reach.
After John Sage of the Gates Foundation pointed the Dobberpuhls toward Agros in 2009, they visited several villages at different stages of the land-purchase process. They were impressed. Agros's leadership has been just as impressed with them as generous donors and hands-on strategy partners. President Manning, who often uses Joel to test ideas, says, "Joel and Holly care that people have the opportunity to be who God created them to be." 
A final beauty of the Agros ownership model is that it combines what is good for the poor with what is good for the land. Villages are designed to prevent erosion, efficient ovens are provided to reduce the need for firewood, reforestation renews acreage marred by war. The ultimate guarantor is that the farmers are owners. Because it is theirs, they take great pride in their land and treat it with care, knowing how valuable it is for generations to come. "The land to these families," says Manning, "is the love of their life."