While much has been written on the negative impact of excessive regulations on the for-profit sector, few studies consider what happens when we overregulate the charitable sector.
Today, Philanthropy Roundtable released a new report that seeks to start bridging this research gap. Written by Wayne Winegarden, economist for the Pacific Research Institute, the study, titled "The 50-State Index of Charity Regulations," analyzes five key areas of charitable sector regulations, ranks the states according to the regulatory burdens in these areas and examines the impact overregulation has on a state's charitable landscape.
Key among the findings is that states with heavier regulations have fewer charities, relative to the size of their economies. More research is needed to test this correlation and to further examine which types and breadths of regulations are helpful to support public trust in charities and weed out bad actors in the space. But this exploratory paper highlights significant differences between the states with relatively low levels of regulatory burden and the states with higher levels.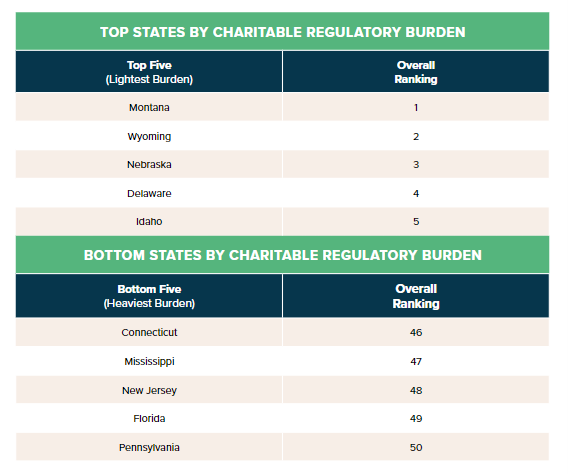 In the states with the heaviest burdens, more charitable dollars are diverted away from the important missions of the charities to meet the red tape requirements of the state. Higher start-up fees, more onerous filing and reporting mandates and whether state residents may deduct charitable donations are just a few of the factors that weigh down the charitable sector in the worst-ranked states. 
As the conversation continues in the states about what level and types of regulations are beneficial and what is excessive, this ranking is an instructive analysis that finds:
"There is, in fact, a strong correlation between the states that impose more burdensome regulatory environments and the vibrancy of the charitable sector. While more research is required, the results are an initial indication that the states imposing the most burdensome regulatory environments are dimming the vibrancy of the charitable sector. Consequently, states should consider the benefits from streamlining state regulations and eliminating unnecessary burdens as a means for promoting a more efficient and effective charitable sector."
Our society and those in need depend on a thriving, vibrant charitable sector. The evidence in this study suggests excessive levels of regulation are counterproductive to fostering a positive environment for charities and those they serve.
This report is one step toward ensuring the sector is free to rise to the challenges of today and tomorrow.
See how your state ranks. View the report here.