Philanthropy Roundtable's Free to Give campaign elevates the voices of everyday Americans who have dedicated their careers to supporting those in need. Their work is made possible by the freedom of all Americans to give to the causes and communities they care about.

Philanthropy Roundtable recently talked to Associate Head Lane Beasley of The Redeemer's School, plus an anonymous donor to the school, to learn more about how philanthropic freedom ensures donors can support their work in the city of Jackson, Mississippi.

All Americans—no matter their politics, race, religion or class—should have the freedom to give to the causes and communities they care about most. That's exactly why we're lifting up the voices of everyday Americans who serve alongside amazing charities.

The following interview has been edited for clarity and length.


Q: Tell us about The Redeemer's School and your mission.

Beasley: The Redeemer's School started as a dream of Redeemer Church, PCA after they were formed in 2004. In those very early stages, members of the church desired to see a Christian urban school that would be affordable for families here in the city of Jackson.

This part of Jackson has a lot of history. After World War II, this area was booming and welcomed back soldiers from the war. And yet, as decades went on, the area fell into deterioration, blight and crime and there was an exodus from the community.

The neighbors in the community and Redeemer Church desired to see a school that would be academically excellent in a safe environment that was cost effective for families that otherwise could not get access to excellent education. Like most urban public school districts, our friends in the public schools here have unique challenges. The church assembled a task force very early in their formation and said, "What can we do to see a new school become a reality?" After months of meetings, research and prayer, they discovered it would be very expensive to launch and sustain such a school, so the project was set to the side until resources became available.

Fast forward a few years and a special couple in California, who had done a lot of philanthropic investments internationally, decided to focus their impact on something that would create transformational change here in the United States. Through their network, they were connected to the leadership at Redeemer Church. After several conversations and a vision trip to Jackson, this couple made the first donation to found and launch The Redeemer's School.

The Redeemer's School (TRS) opened our doors in 2014 with 42 students in K4, K5 and first grade. Our school has grown every year since. We are now in our ninth year and provide programs K4 through eighth grades, with capacity to serve over 140 students. This is our first year to have a full middle school. We have about 30 employees now. And it is an amazing story. To achieve our mission to serve economically vulnerable families, we are not a tuition-driven school; we are a donation-driven school with about 94% of our operating budget coming in the way of donations.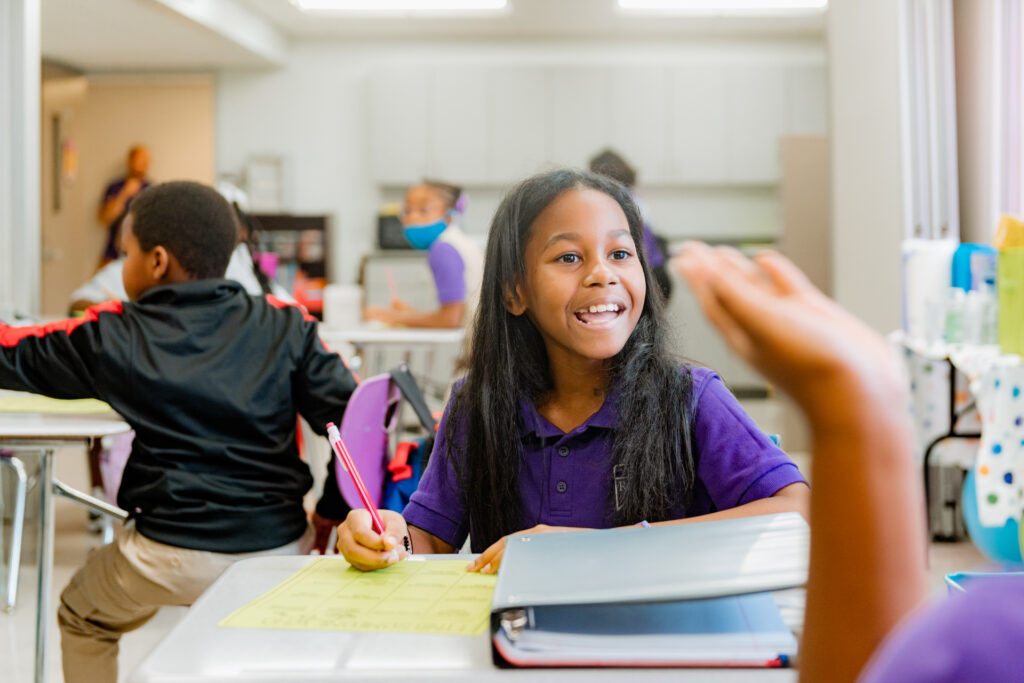 It is amazing for our financial partners like our friend here with us today, to come alongside and see the value of what it is we are able to provide these families and these children, who we believe deserve access to excellent education, and embrace the opportunity to make that possible through investing in the school. We are very grateful for this friend and for the many others who embrace the opportunity to make our school a reality so that we can shepherd children in our city. [About] 85% of students that attend The Redeemer's School are residents of Jackson. [A total of] 137 of the 139 students are from free or reduced meal families and so we are focused on that population group specifically in our admissions process.

TRS does charge a sliding scale tuition so the families have skin in the game. Most families qualify to pay 50 dollars per student per month, which includes their education and two meals a day. But more importantly, it provides dignity to our parents. They know they are not "charity" – we don't look at our families as "charity." We want to elevate our families and give them the opportunity to participate by investing in the education of their students. We do want to communicate the value of our families and make sure they see themselves as partners in the education of their kids.

So, that's a little bit of background on how we got here and what it takes to do what we do.


Q: How do individuals give to the school?

Beasley: We've tried to figure out ways that we could do a better job of showcasing what is happening here so that others can have the opportunity to participate in this amazing thing that is happening. We have individuals who are personally committed to seeing what it is that's happening here continue. They look at it as a long-haul partnership. This isn't a one-time deal for most of our supporters. They see the value of funding something that can be transformative for our city and these families.

There are also some business sponsors that donate under a state tax incentive. In Mississippi, businesses can receive a dollar for dollar tax credit up to 50% of their state tax liability and that's a program that can cover up to 20% of our budget so that is a meaningful vehicle for us.

But the truth of the matter is that sharing the story of what's going on here whenever the opportunity presents itself so more people can know about it and then – quite honestly, as a faith-based school – trusting the Lord to prompt the hearts of people to embrace the invitation to invest in our students and in this mission in whatever capacity they can is what makes all of this possible.

We are always looking for ways to share the story of what is happening in a meaningful way. We accept donations online or through the mail. We are able to accept gifts of stock, life insurance policies or even land by working with our local community foundation to do those kinds of things. We think it's important that we be as accessible as possible for people to give in whatever way they desire.

It is my conviction that we need to allow people to do what they desire to do with their financial resources. It has been my experience that the more opportunities people have to invest in the causes and communities they love, the better it will be for us all. Changes to policy that would include restrictions, roadblocks or time constraints would directly compromise or end the impact of a school like ours because uninhibited tax-deductible contributions are essential for us to continue doing what it is that we do.


Q: How did you get involved with The Redeemer's School and what is your motivation for supporting it?

Anonymous Donor: I received a call from Jewell Hillery at The Redeemer's School. She invited me to visit and learn more about the school. I accepted her invitation and met with some of the teachers and some of the students. I really had my socks blown off by the quality and character of the students I encountered.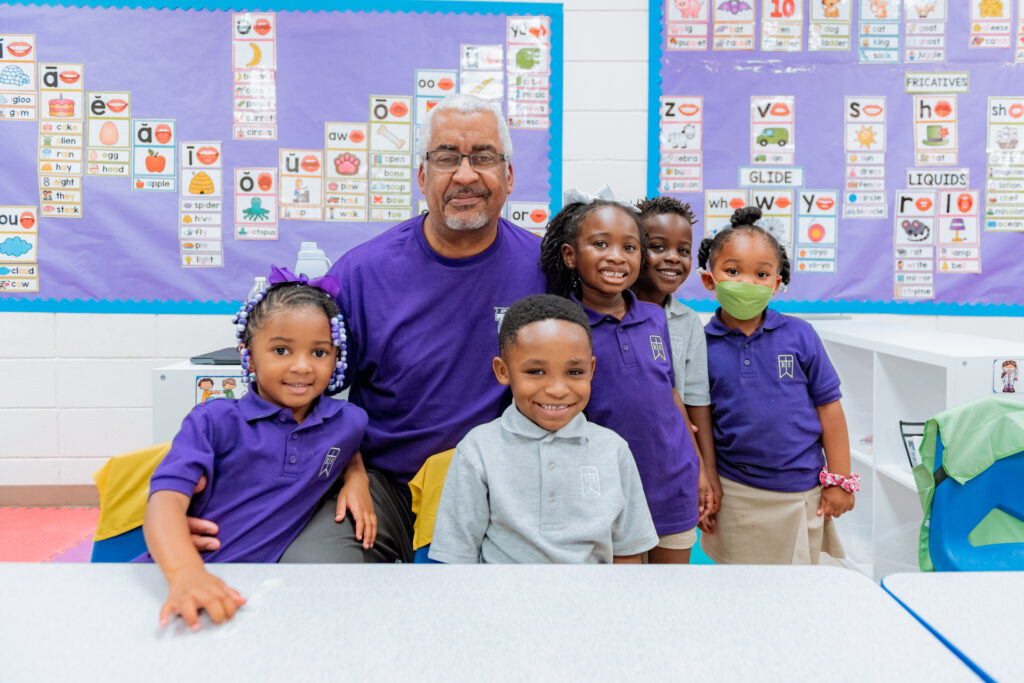 What impressed me the most was the fact that these first graders and second graders up to seventh graders, were looking me in the eye and talking to me, a man many years their senior. They were having real conversations and asking questions that showed me how much this school had to be doing right. Later on, I learned that the test results of The Redeemer's School students were exceptional as compared to the results of comparable students at many other schools. This reinforced my initial impression of the high quality of the education being provided by The Redeemer's School teachers.

The confidence with which the students addressed and interacted with me was a powerful evidence of good and caring teacher involvement. How often do we see children mumbling with bowed heads as they try to talk to adults? Why is that? Because no one had ever taught them how to listen and then communicate in a manner to make themselves be heard. That is not true for many Redeemer's School children.

There is another element of my motivation: the fact that I grew up here at the height of the Jim Crow era. I witnessed the impact of unabashed racism and enforced busing integration upon Mississippi school children. As an adult, I reflected upon and wondered about the effects of the prevailing southern societal norms upon the future lives of my young peers.

Knowing that I could never know the answers of such speculation, I decided to attempt to raise the awareness of Redeemer's students about the incredible significance of civic matters like voting rights and how they can be used to directly shape their futures as citizens. As a child, I never appreciated the potential significance of voting rights. I think it is important for children to be well aware of how their votes can change their futures. Government is not working well lately, and I hope these well-educated children will grow up to be responsible adults who will use their power to vote to enrich and strengthen what may be the greatest democracy in the history of the earth.

Seeing these young people start out in such a positive way, I have come to believe that supporting The Redeemer's School would be a good start to help turn around our community and hopefully improve the potential for these students to lead more abundant lives.


Q: We often hear criticisms of anonymous donors that imply you may have something to hide or ulterior motives for not being public in your giving. What motivates you personally to remain anonymous in your giving?

Anonymous Donor: I choose to stay anonymous based on my newfound study of the Bible. To live according to my values, I want to avoid the impression of just doing something in order to be able to boast about it. This is a relatively new concept for me.

The Bible talks about how doing good works is not a path to get into heaven and we shouldn't do good in order for other people to know about it so you can gain esteem in the community. Rather than acting out of that kind of self-serving motivation, I give anonymously because I believe a person ought to act out of a pure motivation to help others. That's what I am trying to do at the heart of it.

Beasley: It says a lot about this friend that he would use his unique position to invest in our students in this community. The fact that he is taking intentional steps to not draw attention to himself just floors me. Like Matthew 6 describes, he is giving without his left hand knowing what his right is doing. We always want to honor and appreciate our donors while honoring their wishes. We recognize that there is a great perspective that being public in one's giving may help encourage others. But this donor's anonymous giving commitment challenges my own heart to donate, and we are grateful for his friendship to the school.


Q: Why do you think protecting the freedom to give is important to supporting your community?

Anonymous Donor: I don't expect the government to tell me how to spend my paycheck. The government does not belong in this ballpark. We're talking about my assets, that I have earned, and I have the right to do with them what I want, within the boundaries of legal constraints.

Almost by definition, governmental restriction would change giving behavior. Also, estate tax issues are difficult to ignore. I would rather choose how my investments are put to work rather than trusting politicians to spend them wisely. These days governmental spending is based upon perceptions about how to retain power, not about what is best for the future of our nation.

Beasley: For donors to have the unencumbered ability to take advantage of every opportunity to participate in our mission has been part of our success. I believe as I look forward to the next five, 10, 20 years, at how the students will be benefiting from philanthropic efforts at our school that this should be something to encourage and value in the years to come. [The] 140 students on this campus are direct beneficiaries of people like our friend here and many others who desire to see it continue and expand access for even more children and families to benefit by all that is happening here.

I will tell you that we are actively fundraising for a significant project to build a campus that would allow us to dramatically increase access – meaning we could accept twice as many students. Right now, we are in a 1952 building that was never intended to accomplish what it is we are forcing it to do. And our friend here has committed significantly to seeing that campaign be a success. This campaign would put us in a position to look farther out into the horizon and [give] thanks to the generous donors that are coming alongside us. This campaign is donor-driven – we are making meaningful progress for that to become a reality.

Our friend here has come into classes to give lectures to middle schoolers on democracy and government. One of the questions he got was which of the rights in our Constitution is the most important. After some reflection, he came up with the right to vote. The Constitution represents basic human values that are all important but the right to vote is paramount because it gives ordinary people a way to participate in protecting all of their other rights. Entrusting people and empowering people with the ability to direct their own path moving forward is really important and closely related to philanthropic freedom. Limiting philanthropic expression is concerning, as is limiting any of our freedoms as citizens in all aspects of our society. That's why we teach students about the power and capabilities they have to be free.

View more stories about the importance of philanthropic freedom at FreeToGive.org.