Victor Rosado had tried homeless shelters all over New York City. There was the one in Queens that offered an opportunity for temporary housing but nothing to give him a real leg up. There was the Brooklyn-based shelter nicknamed "Castle Grayskull" because it is "one of the worst shelters you can go to." 
Rosado had left home at age 17. Since then, he'd dealt with tragedy from the death of his mother to "three violent experiences" after which he suffered depression and was diagnosed with PTSD.  
At 50 years old, Rosado was ready to turn his life around — and reconnect with his 15-year-old daughter, who he hadn't seen for a year. But he needed the hard skills to help him compete in the workforce. Then he heard about The Doe Fund's Ready Willing and Able program, which takes participants through a year-long program that offers job training, education and sobriety support.  
"It was unique," Rosado says. "Other shelter systems did not have that." 
Rosado, who is currently a member of the program, has since been through Occupational Safety and Health Administration (OSHA) and welding training, and he and his daughter have reunited.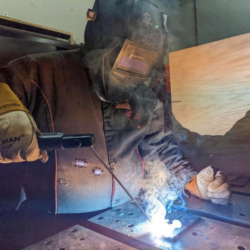 "That's been my thing," he says, speaking of the motivation to see her again. "It's helped me out mentally to get back into a relationship with my daughter." 
Rosado's experience with Ready Willing and Able has been life changing. But unfortunately, it's also unique for someone who has experienced homelessness. The Doe Fund boasts that 78% of participants retain their job after six months and there's a 62% reduction in recidivism three years after graduating from the program.  
Compare that to programs with the popular "housing first" model, which became the United States' default solution to homelessness in the early 2000s.  
"There was a lot of rhetoric 10-15 years ago that we would solve homelessness with the housing first model in 10 years or so," says Judge Glock, director of research at the Manhattan Institute.  
When the federal government adopted "housing first" as its policy in 2013, former President Barack Obama promised the federal government would end homelessness by 2023. Gavin Newsom, then mayor of San Francisco, pledged to end homelessness in his city within 10 years.  
"You had a lot of people very excited about this housing first model who made a lot of pretty expansive claims about what it would do to reduce the homelessness problem," Glock says. "That bill has come due, and by most measures, the problem has gotten much worse." 
Today, cities that were meant to be the poster children for the promise of "housing first" have become cautionary tales. San Francisco has the ninth highest homelessness population in the country, with 9.5 unhoused people per 1,000.  
"We've built over 200,000 new [permanent supportive housing] units for the homeless, as they're known, and, since 2013, the federal government has mandated the Housing First strategy nationwide," Glock writes for the Cicero Institute. "Yet since that nationwide mandate has gone into effect, we've seen street homelessness increase by almost a fourth." 
Post-COVID, the problem has gotten even worse. "The data so far this year [on homelessness numbers] are up roughly 11% from 2022, a sharp jump that would represent by far the biggest recorded increase since the government started tracking comparable numbers in 2007," The Wall Street Journal warned in a recent report.  

Why "Housing First" Has Failed 
Many researchers, nonprofit leaders and donors agree the "housing first" experiment has failed. It is not without good intentions, but suffers from some fundamental flaws.  
The first problem is that of perverse incentives.  
According to Glock, most of the country allocates scarce housing resources according to a point system. The idea is the neediest get the housing first, but in practice, it means there is incentive to abuse drugs, commit acts of violence and more just to reach a higher rung on the ladder.  
The Obama-era Department of Housing and Urban Development directed local groups to use this metric for providing housing, though states have some leeway on how far they go with it. In Massachusetts, for example, you get four points for being an active drug user, but only one point for being a recovering addict. But should you overdose, you can get two more points.  
Even critics of the policy agree that housing options are essential for people experiencing homelessness and some may even benefit from a simple gift of permanent housing. But for most, that can't be the only solution.  
"The problem is that people become homeless for a variety of reasons, and putting them into an apartment just moves their homelessness inside," says Mary Theroux, CEO of the Independent Institute. "They're still culturally homeless, they still have the same issues they had when they were living on the street, except now they're isolated inside, and they die at higher rates, actually, once they're housed."  
What people struggling with homelessness really need, she argues, is a holistic approach that combines housing with social support. Sometimes, people need a push in the right direction.  
Stephen Eide, a senior fellow at the Manhattan Institute, says "housing first" relied on "false advertising" that presented it as an almost scientific solution.  
But it fails in theory — advocates hold up a "harm reduction" philosophy that says you cannot impose on people by directing them toward another lifestyle, you can only make resources available to them — and in practice. Not only are there perverse incentives, but "housing first" often ends up just looking like "housing only." 
Yet homelessness is a problem of so much more than housing.  
"When we're talking about that problem, we're often actually talking about other problems — crime, untreated serious mental illness — and when we fail in those other areas, we do make our homelessness crisis worse," Eide says.  

Multi-Pronged Approach Tackles Issue from All Fronts 
If housing first has failed, what should take its place? 
Isabel McDevitt, co-founder of Work Works America, is working to be part of the solution. The Doe Fund's Work Works model, which inspired the Ready Willing and Able program that helped Rosado, helps people find housing, work and mental and emotional support through an employment-based holistic model to fight addiction, exit homelessness or just get back on their feet.  
Because McDevitt supports various interventions with the Work Works' multi-pronged approach to homelessness, she finds it surprising so few organizations and government entities seem interested in expanding solutions to face this issue from all fronts.  
"What a lot of people don't necessarily understand is the complexity of how people end up experiencing homelessness," she says. "What I would hope is that we can have more of an open conversation about new, custom approaches to match the diversity of people in need. We haven't yet solved homelessness, so let's get creative. Policymakers should be looking at creative approaches that integrate people back into the community rather than keeping them separate in 'homeless housing' or doubling down on one-size-fits-all approaches." 
While permanent, no-strings-attached housing has become the default solution to solving homelessness, Glock says more states should focus on recovery housing, such as the Oxford House model (temporary homes for those fighting addiction), and transitional housing. In Texas, the Health and Human Services Commission contracts with organizations providing recovery housing, with many positive results.  
Theroux has traveled the country looking for alternative programs. One such initiative is Haven for Hope in San Antonio, Texas, which says an astounding 91% of clients "are still in permanent housing after one year." The organization describes its approach as "person-centered, trauma-informed and recovery-oriented." 
Carrie Tynan of the Adolph Coors Foundation supported McDevitt in bringing the Work Works model to Boulder and Aurora, Colorado. McDevitt wanted to expand the model of the day shelter she was running to something with more long-term impact.  
This turned into the Ready to Work program at Bridge House, a "combination of employment, housing and support that breaks the expensive cycles of homelessness, incarceration and chronic unemployment," per its website.  
Participants in the program are required to find work shortly after joining, and the program claims a success rate of 74%.  
"We believe in the value of work," Tynan says. "We know that it can help people move out of a dependency mindset." 
Tynan says she met one participant who said he liked his alone time and had a clean driving record. "So I decided I'm going to be a truck driver," he concluded.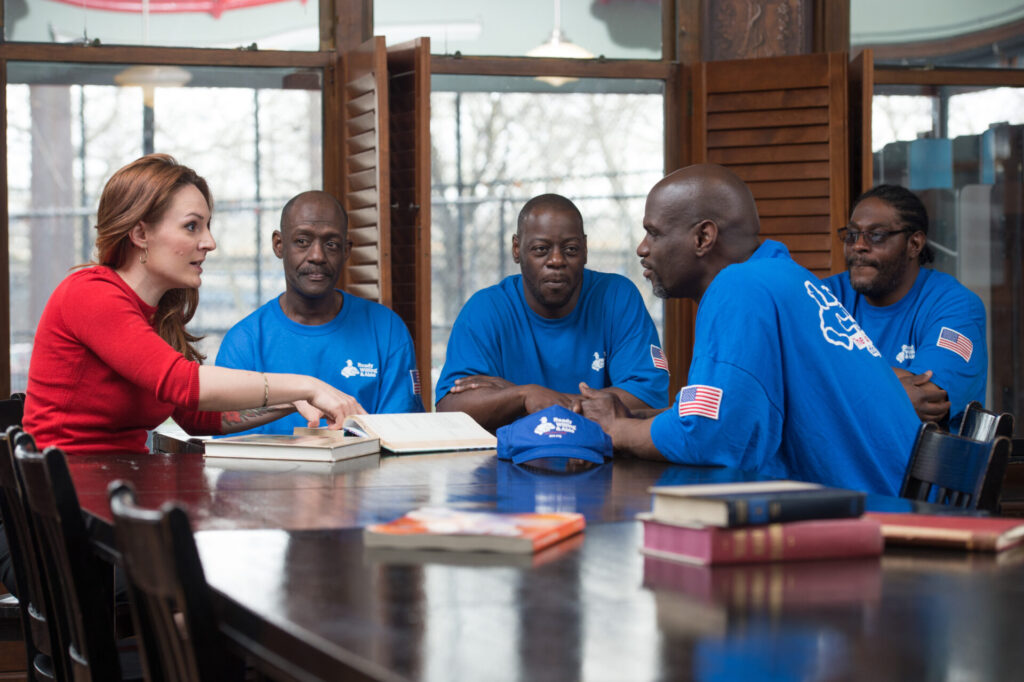 How Philanthropists Can Make Lasting Changes 
For donors who want to get involved in solving the homeless crisis, supporting efforts that help people in a lasting way, what can they do?  
The fact that government programs seem generally disinterested in taking a holistic approach presents an opportunity for philanthropists to focus on mental health, foster care, substance abuse, public policy, direct service, preventive measures or all of the above. And they don't have to do it alone.  
According to entrepreneur and philanthropist Joe Lonsdale, the key is to ask yourself, "Do you want to be subsidizing a broken system or do you want to be part of a solution?" Too many philanthropists dump their money on mediocre organizations with misaligned incentives and lack of accountability, he says. By pouring money into efforts that aren't actually solving homelessness, he says, "You're probably making the problem worse." 
Tynan says policy change will do little if it doesn't go hand-in-hand with the work of direct service nonprofits. For donors looking to scale a model, she suggests providing "multi-year gifts with benchmarks that need to be met in order to track the organization's progress." 
Theroux proposes a "Tocquevillian solution," a "community-wide approach in which all sectors come together to advance solutions." She applauds Haven, for example, for coordinating every other nonprofit in San Antonio working on homelessness, about 140 of them, to tackle the problem together. More than a decade later, "they're all working in concert" rather than duplicating each other's work, she says. "That's where a funder can really help exert influence." 
"The clearest lesson" from Haven for Hope, she says, "is that its success is a result of its being a product of the entire community's coming together. It started with the partnership of an oil tycoon [Bill Greehey] and the Democratic mayor whose election he had opposed [Phil Hardberger], but then engaged and involved every sector: police, fire, EMS, hospitals, every nonprofit, the business community, philanthropic community, homeless advocates, the homeless themselves … And over the 12 years it has operated as an independent 501(c)(3), it has learned and adjusted its model based on learned information." 
Theroux and her colleagues at the Independent Institute regularly partner to share ideas with peers at other organizations such as the Manhattan Institute, the Texas Public Policy Foundation, Discovery Institute and Cicero Institute.  
Theroux and other leaders focused on addiction recovery and homelessness alleviation joined together earlier this year, organized by Michael Shellenberger and We Heart Seattle. They created North America Recovers, a network of organizations that share insights with each other and push for policy change together.  
"We share studies, interviews, information, Twitter posts and more, at a rate of probably 20-plus messages each day," Theroux says. "Members meet with one another and visit policymakers and others to advance recovery. We meet monthly by Zoom to collaborate on ideas for messaging, outreach to policymakers and the public, and are currently organizing several events to be held next year." 
One issue that faces even successful programs that fall outside the norm is funding. McDevitt says many nonprofits that don't fit the government's narrow mold for homelessness policy need alternative funding, adding philanthropists should look for local organizations that are trying new things.  
"Don't assume your city has it figured out or that it's just a resource issue," she says. "Try to understand and support what's happening and having an impact on the ground but also push for innovation." 
Ultimately, while government homelessness policy remains stuck in the past, donors have a unique opportunity to support nonprofits that are shaping the future.  
"Philanthropists need to step up and be the civic leaders they have traditionally been in the U.S.," Theroux says, "coming together in community and working on our problems together." 
Madeline Fry Schultz is the contributors editor at the Washington Examiner. She previously worked at Philanthropy Roundtable and as the culture commentary writer at the Washington Examiner.