Materialism, sex, and celebrity social life filled Peggy Guggenheim's often-sad life, but her flamboyant personality brought prominence to modern art. She used her name, funds, and connections to not only support talented friends and save countless paintings from destruction during World War II, but also change the way that the public interacts with art.
In Peggy Guggenheim: The Shock of the Modern, Francine Prose uncovers the sources of Peggy's controversial bohemian lifestyle and her mythologizing of herself and the artists she supported. Rather than just reporting the scandalous scenes of Peggy's life, Prose carefully examines her contradictions. While regularly making attention-drawing scenes, Prose argues, Peggy was actually an unconfident person. Her many anxieties included her Jewish heritage, a large nose that made her feel ugly, and her belief that she wasn't intelligent or talented.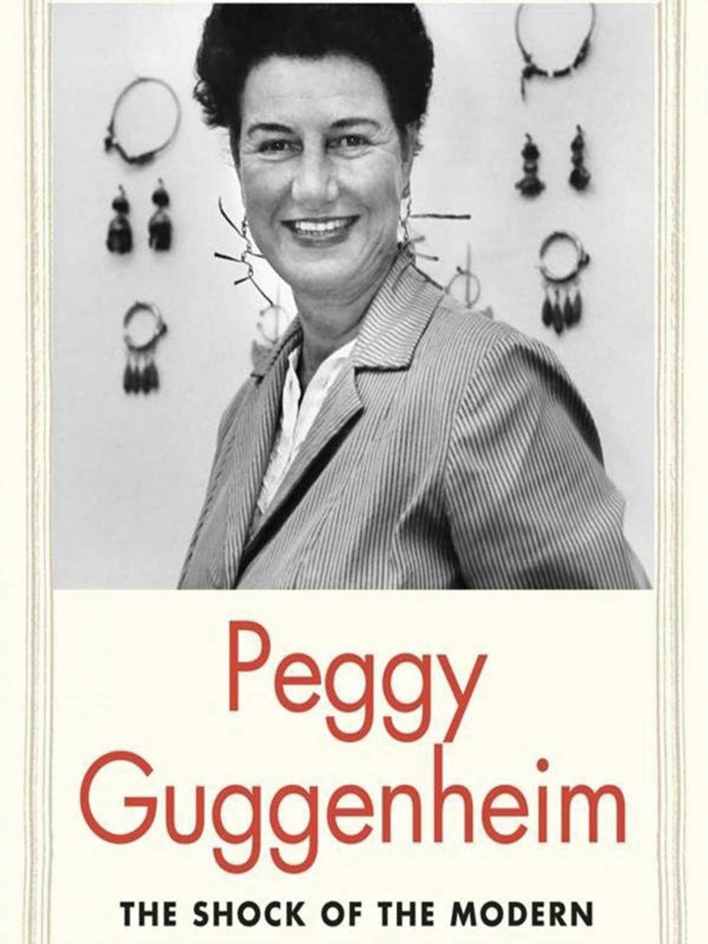 Peggy's fortune also played a complicated role in her life. While she was always the richest person in her social circles, she wasn't wealthy by Guggenheim standards. Prose explains that Peggy's father, Benjamin Guggenheim, made a poor business decision to pursue his own investment interests rather than working with his brothers in the mining and refinery sector. (If a poor investor, he was yet a gallant gentleman, famously choosing to forgo a seat in a lifeboat and go down with the Titanic, stating that "No woman shall be left aboard this ship because Ben Guggenheim was a coward.") With a name like Guggenheim, her peers always believed Peggy had more money than she ever let on, yet her inheritance was less than $1 million.
With comparatively little free cash, Peggy had to be inventive to fulfill the philanthropic expectations for a Guggenheim. Encouraged by friends like Marcel Duchamp and Samuel Becket, she began collecting modern art when she was 39. She opened an art gallery in London from 1938 to 1939 that "was not commercially successful," according to Prose, but "did help to create and solidify the reputations of many artists." It launched Peggy's journey as an art collector.
After the gallery closed, she went on a spree of buying a painting a day. Despite her limited funds, with tension building toward the Second World War she was able to amass a horde of modernist pieces for relatively little money. European artists had no idea what would happen to them or their work, so they sold to Peggy. During this time, she appears insensitive and cutthroat; one friend accused her of "being so fixated on her collection that if she found a truck to transport it, she would happily run down any refugees who had the misfortune to get in her way." Prose asserts that despite this apparent lack of empathy, Peggy genuinely believed she was helping artists.
And, in fact, she did. She saved countless paintings from being destroyed by Nazis. Her buying gave some of the creators cash with which to flee. And during the war she gave over 500,000 francs to help diplomat Varian Fry save 200 artists, scientists, writers, musicians, and film directors, including Andre Breton, the founding father of surrealism.
In 1942 she opened another gallery in New York, called Art of This Century. Inspired by the surrealist exhibitions she saw in Europe, "Peggy changed the way that people looked at art. No longer a passive spectator, the gallerygoer would have a cerebral and sensory experience." Art of This Century was a cross between an amusement park, haunted house, and Parisian café, combining innovative architecture with theater set design, sculpture, and paintings. It offered free admission so anyone from any background could access the highbrow art world. Through her outrageous persona, eye for art and display, and ability to listen to advice, Peggy made her galleries the up-and-coming places for modern artists. Her patronage allowed Jackson Pollock, Pablo Picasso, and Salvador Dali to become household names.
Peggy eventually became bored with life in New York and closed her gallery in 1948, donating over 150 pieces to various museums, galleries, and universities. She moved to Venice and renovated Palazzo Venier dei Leoni, making it into both a gallery and her home. Before her death in 1979 she transferred her collection to her uncle's Guggenheim Museum to ensure that the art would be safe and open to the public.
From Peggy's fears and insecurities to her successes in the art world, Prose guides the reader through a bumpy journey, showing in the end how even a donor on a limited budget can make a huge impact with the right strategy, people, and timing.