General Jim Mattis, who commanded the First Marine Division during the 2003 invasion of Iraq, had just returned to the U.S. with his troops for a much-needed break. His marines were resting, buying presents, and getting ready for Christmas leave. Then to everyone's surprise an order from the Pentagon arrived: they were heading back to the land of the Tigris and Euphrates.
An insurgency had broken out in Iraq, and Mattis knew that in this next stage of war they would be fighting a different way—without front lines or conventional opponents. In the heart of the Sunni Triangle they would have to quell a violent combination of foreign fighters, Saddam loyalists, terrorists, spies, quislings, tribal chiefs, and smugglers, all hidden amid innocent families in a densely populated area northwest of Baghdad. The First Division's motto is "No better friend, no worse enemy." The marines would need to emphasize the "friend" part more in this next tour of duty.
As Mattis raced to prepare, his chief of staff interrupted him. "Sir, there is a guy out here I think you need to talk to." It's not every day that a civilian with no credentials and no introduction can talk his way through a Marine base and into the commanding general's office. But Jim Hake is not an everyday civilian.
In terms of background, the two Jims could not have been more different. Commissioned in 1972, Mattis was a grizzled Marine Corps "lifer" who had fought two wars in Iraq and one in Afghanistan. Hake was a Silicon Valley entrepreneur who had co-founded and sold one of the first Internet media companies, then co-founded another firm that paved the way for today's mobile apps. Mattis was a no-nonsense master of military virtues; Hake was an experimental business builder.
What united the two was 9/11. The attacks had profoundly disturbed Hake, and he shared the general's view that "we are in the middle of a violent global argument between the voices of intimidation and inspiration." Both men anticipated that U.S. troops would face difficult obstacles in the Sunni Triangle. Mattis's marines were first-class fighters, but his mission required much more than combat. Winning the battle of competing values would require building community services, working markets, and a vibrant civil society.
Hake told Mattis his idea: He would create an entrepreneurial, philanthropic organization that would help U.S. military forces achieve their non-combat objectives. It would raise money online and hire retired military men who would accompany active troops and diplomats into disputed neighborhoods to help them identify needed goods and services. After an ultra-quick review process, the nonprofit would deliver the desired commodities for distribution by the troops. It would be a decentralized, fast, targeted effort, focused on solving problems and building goodwill. Structured like a well-run business, this charitable effort could speed its assistance to the battlefield faster than any cumbersome government entity could. In more ways than one it would represent the Spirit of America—which is what Hake called the group.
Mattis left for Iraq with Hake's number on his speed dial—and put it to good use. One of the more unusual calls came in 2006, at the height of the Anbar Awakening. The local tribes were beginning to reject al-Qaeda and Mattis knew it was a moment brimming with opportunity. He had a chance to win the support of the local community, but he needed a powerful gesture to help bridge the distrust between his commanders and the Sunni chiefs. He knew that in the local culture a sword has deep symbolic meaning. When a sword is exchanged, disagreements and retribution are put aside. Accepting a sword is a signal of trust and friendship. It was exactly what he needed.
Mattis had plenty of armor, but swords were another matter. He couldn't use taxpayer funds to buy gifts, let alone $600 Marine officer ceremonial swords. But he knew someone who could get them if asked. He contacted Hake, who raised the funds through Spirit of America to buy and deliver a dozen swords.
Two kinds of vets to the rescue
Since 2003, Spirit of America has embodied the initiative, generosity, and helpfulness of the American people. Following U.S. forces and State Department officers into some of the toughest areas of the world, it delivers private assistance intended to complement their work and advance U.S. interests. Field personnel work alongside deployed troops to understand local conditions, identify high-priority needs, and decide what kinds of specialized aid could be brought in to help achieve security objectives. The nonprofit keeps a cadre of cultural and technical experts on call for whenever specialized advice is needed. It coordinates all final actions with U.S. military and diplomatic officials.
"The skills of our field representatives are key," notes manager Isaac Eagan. All of Spirit of America's field representatives are U.S. military veterans who previously served on the ground in Iraq or Afghanistan, giving them the experience, skill, and maturity to act safely in risky places. "They have to be able to assess and develop relationships, think about problems from an entrepreneurial perspective, leverage local resources, and, above all, be flexible."
Field reps are authorized to commit to some projects on the spot. Other proposals are submitted to Spirit headquarters for 24-hour review. Yet others are posted on the group's website and carried out if and when they get crowdfunded.
As the examples mapped and described suggest, some of the projects are very simple: books for a school, blankets for a hospital. Other efforts are quite complex. For example, in the west African Islamic nation of Mauritania, the U.S. government was frantically working to contain extremist influence as 30,000 refugees poured over its border from a civil war in adjoining Mali. To protect Mauritania's precarious herding economy, the U.S. government built holding pens to vaccinate livestock. Nice gesture, but it provided little help because there were no veterinarians to wield the syringes. A U.S. Army team in the area saw the problem and asked its Spirit of America representative for help. Spirit provided funding and equipment to bring in 11 African veterinarians to diagnose and treat livestock problems at the newly built holding pens. It also partnered with the Mauritanian national veterinary center and the French pharmaceutical company Merial to underwrite a regional deworming program. Within just a few months the healthier animals were yielding substantially more milk and meat, and to top it off the new vets were making money. Prosperity and security have improved across the region, and the extremism and violence seen in Mali have not flared up in Mauritania.
Helping the needy, our soldiers, and the nation
Spirit's projects are funded entirely by private donors: 18,000 individuals and a number of foundations have provided $24 million since the program began. This has allowed the group to invest in humanitarian projects directly aligned with U.S. security objectives in places like Afghanistan, Colombia, Djibouti, Guyana, Honduras, Iraq, Jordan, Kenya, Lebanon, the Maldives, Pakistan, Peru, Syria, Tajikistan, and Yemen.
Spirit of America uses a tiered-giving model that mixes major gifts from philanthropists, foundation grants, and donations raised for specific projects from grassroots supporters. Website project pages detail what is needed and how much it costs. For the work in Mauritania, for example, the site showed that $86 bought deworming medication for 50 cattle, $318 bought startup equipment for one veterinarian, and $1,121 paid for two weeks of training.
Recently, hundreds of donors contributed over $140,000 to provide rubber boots for children who had escaped the horrors of the Islamic State by fleeing through the desert. Just $2 would protect a youngster's feet from the winter cold and the raw sewage in refugee camps. Initiated at the request of U.S. soldiers in Iraqi Kurdistan, the gift had a humane impact while also demonstrating to the Kurds that America valued them as allies.
Jill Fagerstrom, one of the boot donors, has supported dozens of Spirit of America projects since 2010. Each one's very specific purpose, requested by servicemembers on the scene, "gives me a concrete idea of what the gift accomplishes," she notes. Donating makes her "feel connected to the world," she says, but also "links the people helped and the U.S. It's a way of saying, 'You're there and we're here but we haven't forgotten you.'"
Spirit of America guarantees that gifts will be used exactly as specified. If a project doesn't come together, the gifts are refunded. "People should know where their money goes," argues Hake. "It builds trust and it's the right thing to do."
This guarantee was put to an early test. In April 2004, Mattis's marines sought help to establish several television stations in Anbar Province that would be owned and programmed by Iraqi citizens. The idea was to provide a local alternative to Al Jazeera, whose views were fueling anti-American resentment that endangered U.S. troops. Spirit of America agreed to provide the needed video production and editing gear. After the project was written up by the Wall Street Journal, there was an enormous donor response: $2.4 million poured in for the project. But the gear needed cost only $100,000.
"We offered $2.3 million in refunds to 1,000 donors. We also let people reallocate their gifts to other projects, if they wanted," Hake explains. "Almost everyone—99.6 percent—chose to reallocate their funds. One supporter told me he had been giving to charities for 30 years but this was the first time anyone ever offered him a refund."
Spirit of America also accepts less restricted donations through topical funds, such as one for counterbalancing ISIS. And field representatives are authorized to commit immediately to time-sensitive projects if they are judged to be vital and cost less than $2,500. This has been done for things like a $1,500 water pump for a mountain village in Afghanistan and a $300 dinner bringing together tribal leaders in west Africa to discuss security problems created by al-Qaeda in the Islamic Maghreb.
Philanthropists who support the organization's larger mission of advancing America's security and values fund Spirit of America's field operations and organization expenses. Home Depot co-founder Bernie Marcus, for instance, recently made a $1 million gift to cover operating expenses.
John Phelan, a managing partner at MSD Capital, is a regular contributor to Spirit of America. "My grandfather was a Marine in World War II who landed at Normandy," Phelan reports, and "my dad fought in Korea." He views his spending on Spirit of America as a way to back America's volunteer soldiers "while they are in harm's way." He thinks it also serves the national interest. "The future of war," he says, "is about winning people, not territory."
Taking sides
Traditional humanitarian groups hold that non-governmental organizations operating in conflict zones should stay scrupulously independent. The Red Cross established this concept in 1921 as one of its core principles. The United Nations later insisted that all of its humanitarian missions would be characterized by neutrality, impartiality, and operational independence. The idea is that aid should never be distributed with political, economic, or military objectives in mind. "These principles are not primarily moral values, but rather a means to secure access to those who suffer the brunt of conflict and violence and to enhance the effectiveness of aid," said Angelo Gnaedinger, director-general of the International Committee of the Red Cross, in 2007.  
The Spirit of America model is intentionally different. "This is not conventional charity. It is not neutral. Everything is done in support of U.S. troops," says Hake. "We advance human security and well-being. But taking a side breaks new ground in international assistance."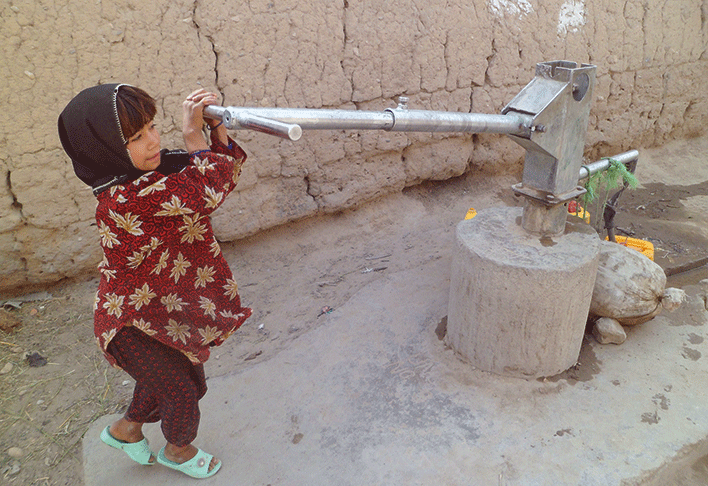 Jenny McAvoy of the humanitarian coalition InterAction argues that non-neutral charitable work can have undesirable effects in conflict zones: "Punishment of vulnerable people, widespread suspicion of humanitarian organizations, denial of access to affected populations, targeted attacks on humanitarian workers, manipulation and diversion of aid to serve political goals." Alas, all those issues already bedevil even the most "neutral" aid efforts today. From ISIS to the Lord's Resistance Army, militant groups refuse to tolerate even adamantly "impartial" humanitarian intervention.
Nadia Schadlow, who directs foreign-policy giving at the Smith Richardson Foundation (one of Spirit of America's supporters), argues that the space for "neutral" aid is actually relatively narrow. "Once any long-term effort to alleviate suffering begins, it becomes political," she points out, so "not taking sides" is often more a theory than a practical reality.
Spirit of America isn't the only private organization that takes America's side in conflict zones around the world. America Abroad Media is a nonprofit supported by numerous donors like the Carnegie Corporation and the Stuart, Diana Davis Spencer, and Starr foundations. It produces for broadcasting partners in conflict zones programming that encourages free inquiry and alternatives to extremism. The 501(c)(3) National Strategy Information Center promotes democratic processes in poor countries. For instance, its anti-corruption programs teach practical ways of reducing bribery of police officers and soldiers, treating citizens respectfully, and building community bonds.
Traditional humanitarian boundaries can't safeguard relief workers today, argues Hake, citing recent beheadings of aid workers by ISIS. "Terrorists put us all at risk. By helping our troops defeat them, Spirit of America makes it safer for neutral organizations to do their work," he asserts.
Certainly the leaders of American interventions abroad appreciate the group's accomplishments. General Mattis recently described Spirit of America in the Wall Street Journal. "It is agile. It is responsive. It has truly saved lives. It has been worth its weight in gold to us."
Mattis and several other generals had to take action in 2012 to protect the charity from bureaucratic threats to its operation. After Centcom lawyers told Hake that "what you've been doing since 2003 is actually a violation of military ethics regulation" and could get soldiers prosecuted for "improper solicitation of gifts," Mattis, the Army chief of staff, the commandant of the Marine Corps, and the head of Special Operations Command appealed to Defense Secretary Leon Panetta. Panetta signed off on a new rule that legalized private support of military operations around the world. Since then, Spirit of America has expanded into Asia, Africa, and Central America, where it works alongside Army Green Berets to offer humanitarian assistance in "pre-counter insurgency" situations.
Small interventions are beautiful
While Spirit of America claims it both produces humanitarian results and increases the success of U.S. troops overseas, its long-term effects, like all "nation-building" efforts today, are still uncertain. Some observers see its savvy technical aid as a vast improvement over traditional foreign assistance. Others wonder whether giving rubber boots to refugees can really counteract ideologies of terror and extremism.
With the U.S. facing the most complex and volatile security situation it has seen since the end of the Cold War, and U.S. Special Operations troops now working quietly at the village level in 81 countries (exactly the scenario Spirit of America is built to help with), this is far from an academic issue. America's opponents understand the importance of public opinion, and groups like the Taliban, the Islamic State, and Latin drug lords use combinations of aid, propaganda, and public services to try to cement their power.
It is likely that our future security challenges will be bottom-up, community-oriented problems in tribal societies with weak governments. Local solutions instigated by small actors can be very effective in such situations. A nimble philanthropic organization like Spirit of America that operates at the "retail" level with careful attention to detail can often be more effective than a government-run entity.
Meanwhile, Spirit offers everyday American donors who care about the U.S. and its place in the world a direct and immediate way to help. "As Americans," General Mattis notes, "we have never accepted that government has all the answers." This is true even in areas like security and foreign policy.
Philanthropists concerned about the war of ideas raging overseas today needn't be bashful; there are now places where they can play a crucial role in expressing the values of freedom and fair play in a tumultuous world.