Last week, two new reports were released illustrating the growing importance of donor-advised funds (DAFs) to America's charities and the communities they support. The figures that were published further undermine the misguided Senate legislation, S. 1981, that targets these charitable giving accounts.  
Grants Are Pouring Out of DAFs   
First out was the National Philanthropic Trust (NPT)'s 2021 DAF Report. Covering the 2020 fiscal year, this report confirmed what early data suggested:  DAF donors stepped up big time in a year of pandemic, social and economic crises. Grants out of DAFs rose to $34.67 billion from $27.29 billion, an astounding 27% in 2020 compared to the prior fiscal year.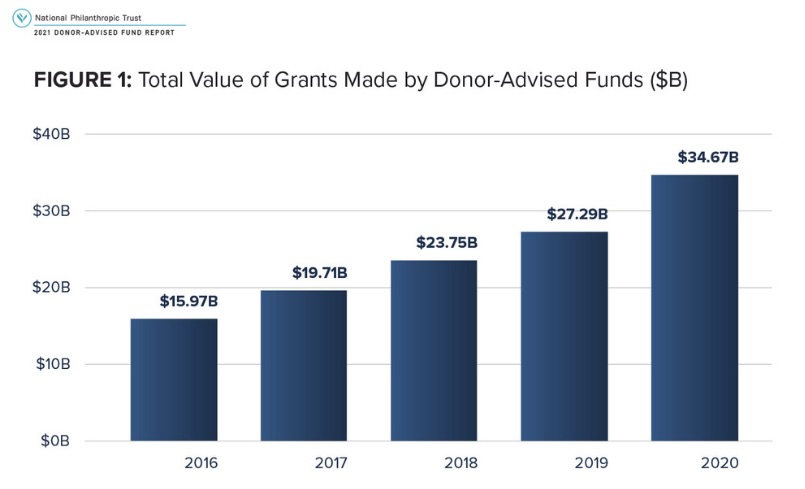 Contributions into DAFs rose as well, by 20.6%. The divergence between these two increases speaks to the value of DAFs as long-term giving vehicles. Donors increased the amounts distributed out of DAFs to charities at a higher rate than they increased their giving into DAFs – all of which is irrevocably dedicated to charitable giving. This is truly America's rainy-day fund in action.  
America Wins with Growth in DAFs  
And the rainy-day fund is growing. According to NPT's report, there was a 16.3% increase in the number of DAF accounts and a 9.9 percent% bump in the charitable assets held by DAFs, thanks to factors like market performance. The average size of these more than one million accounts has declined, further indicating the wide appeal of DAFs to those of all income levels.  
While DAF donors meaningfully increased their already high payout rates during 2020 to nearly 24%, it is important to keep in mind that COVID-19 will not be our last challenge as a country. Our communities have needs now and will face new, unpredictable problems in the future. Allowing donors to continue growing charitable assets while also paying out at strong rates is one of the most powerful features of DAFs as a giving vehicle.  
Grants Are Meeting Today's Needs 
These data are great, but what do we know about where these one million+ DAF accounts are granting? That's where the second report of last week comes in. The Giving USA Foundation and the Indiana University Lilly Family School of Philanthropy have released an analysis of where DAF gifts go. This study covers a sample of about 75% of all DAF grant dollars from 2014-2018 and determined that most DAF grants benefit "education, religious and public-society benefit organizations—which include United Ways and many organizations focusing on community development and civil rights." 
The study looked to more recent years as well for preliminary findings for 2019 and 2020 that show, "DAF grant dollar amounts grew by 39% and the number of distinct grantees grew 11% between 2019 and 2020. DAF giving to human services grew 138%, while giving to public-society benefit organizations nearly doubled. DAF grants to Historically Black Colleges and Universities and other racial justice organizations more than quadrupled."  
Data Argue Against New Restrictions   
With the growing popularity of DAFs, their strong support of charities when resources are needed most and their ability to appreciate over time for future needs, why restrict DAFs? Both of these reports illustrate the power of these robust charitable giving accounts to easily facilitate our American spirit of generosity and free choice. Proposals like S. 1981, which would penalize DAF donors and private foundations, would only serve to limit the giving seen in these new data points.