At Kazimierz Square, in the old Jewish quarter of Kraków, a violin's vibrato gently rises with the breeze. The Star of David is proudly displayed on synagogues—as a badge of honor, rather than a symbol of ostracism—with Hebrew lettering on restaurants lining the cobblestone square. The streets and cafés are filled with lively music and savory knishes. Some of the 30,000 visitors attend scholarly lectures or try out a Hebrew lesson in the synagogue, while others hold hands and dance in the street to the klezmer tunes' clarinet and tambourine.
This ancient district, home to Schindler's factory (familiar from Steven Spielberg's 1993 hit Schindler's List), was the center of Jewish settlement in the fifteenth century, and was a home for Jews in 1941. Today, it is the site for one of Poland's biggest celebrations, the Jewish Culture Festival.
Further north in Warsaw, there are more signs that, as philanthropist Tad Taube puts it, Jewish life is "alive and well" in Poland. Even amid the resurgence of anti-Semitism in some parts of the country, there is a renaissance of Jewish identity. Taube has helped make this revitalization possible, supporting the Jewish Culture Festival, the rehabilitation of Jewish cemeteries and synagogues, the Jewish Community Centers in Warsaw and Kraków, and much more, while heading several American foundations over the past three decades.
His latest contribution is to a striking new museum that gives tribute to a thousand years of Jewish life in Poland. The Polin Museum of the History of Polish Jews, standing on the sanctified ground of the Warsaw Ghetto Uprising, opened on the seventieth anniversary of that act of resistance. Its "Core Exhibition" was recently opened, in time for the twenty-fifth anniversary of the Berlin Wall's crumbling. But the museum also aims to remind the world that there is more to Jewish heritage than war and persecution.
At one time, Poland was home to the largest Jewish community in the world. (Three quarters or more of American Jews have roots in greater Poland, Taube says.) Jewish history is rooted in Poland's very core. The museum moves visitors through an enchanting narrative, from traveling merchants to Middle Ages settlements, from the rise of Jewish self-government, to Jewish intellectual society. Of eight galleries, only one focuses on the Holocaust. This museum commemorates not death, but life.
A new home in America
Born in Kraków ("I tell you, such a jewel"), Tad Taube spent his childhood in Warsaw and Toru , a German-speaking town in the Polish Corridor near the Baltic Sea. While attending a French Catholic school in Warsaw as a child, he was pulled out by a rabbi for Hebrew lessons when the other students had Catechesis.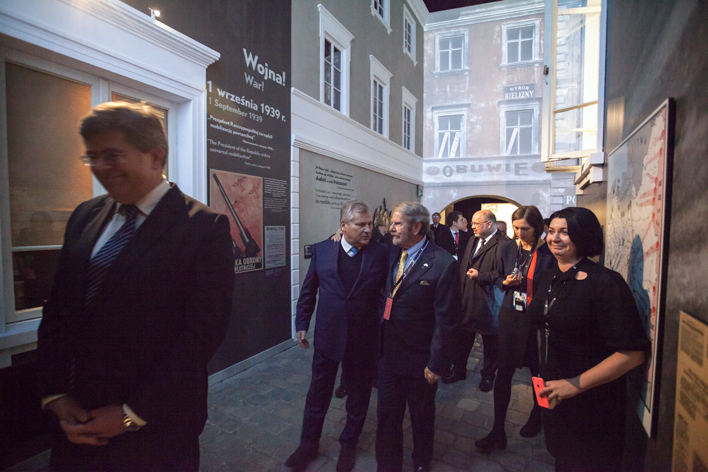 But it was on a train from Warsaw to Paris during the summer of 1939, just before the German invasion of Poland, when young Taube developed a deeper awareness of his Jewish identity. He was eight years old and traveling with his father's college friend in hopes of reuniting with his parents in America, and their train ran through the heart of Nazi Germany. With "Jew" imprinted on his documents, answering to the Gestapo at multiple checkpoints throughout the journey was "quite frightening." The duo safely arrived in Paris, but had to wait several weeks before obtaining travel papers. Finally, temporary documents were secured and the pair endured a miserable crossing to Ellis Island.
In Poland, the Taubes had been an "upper-middle-class Jewish family in the world of commerce." Tad's parents went on a business trip to the United States, and decided to stay. After the Nazi occupation of Austria and the Kristallnacht attacks on German Jews, "they connected the dots and came to the conclusion that this part of the world was going to be a difficult place in the years ahead, and they made a conscious decision not to go back."
That decision saved their lives. Back in Europe, most of Taube's extended family, including his grandparents, perished in the Holocaust. His cousin Nita lost both her parents—murdered at Auschwitz. She survived because she was "spirited away" by Catholic nuns and hidden in a convent throughout the war. Taube's parents later found and adopted her, raising her as his sister.
Reunited with his family in the United States, Taube decided he was going to be like "every other red-blooded American kid." He attended summer camp in upstate New York and worked diligently to become fluent in English—his third language after German and Polish—and spoke without any accent within weeks. "I didn't want anybody to identify me as some kind of refugee, so I was really driven to become a part of this great country."
Tad's mother had brought some of her jewelry on her trip, and its sale was the family's initial source of income. Eventual financial deterioration led them to move near Polish friends in California. His mother found work as a waitress and his father as a janitor, and they slept on a Murphy bed in the living room. Young Tad was given the tiny bedroom, and "life was very difficult."
But life improved. As a boy, Taube had a brief acting jaunt with a few Polish-speaking roles in Metro-Goldwyn-Mayer war propaganda films. He led a group of children selling U.S. savings stamps and bonds to help finance the war, and was a junior air-raid warden.
"There's no history of Poland without the Jews, and no history of the Jews without Poland."
The conversation with his father about college went like this: "'Son, have you given any thought to college?' 'Dad, I've been thinking a lot about it, and I'm going to UCLA.' He said, 'You're going to Stanford.' And that was the conversation. I say this to show I was raised in a very authoritarian European household."
Taube arrived at Stanford in the summer of 1949, studying history and engineering. After completing ROTC he served in the Air Force during the Korean War. Following early success with a Silicon Valley company, Taube decided to dip his toes into real estate, where he connected with family friends Joe and Stephanie Koret, owners of the women's apparel company Koret of California.
One day, Taube found himself in an intimidating meeting with Koret's senior staff. Joe asked the new broker why his company was unable to make any real-estate deals. Taube went for broke: "I suggest you empty the room and find somebody you trust to go out and make deals for you," he declared. "And Joe kind of sat back in his chair and took a deep breath and said, 'Gentleman, you heard what Mr. Taube said, leave the room.' Then he turned to me and he said, 'So go out and make some deals.' That was the beginning of our relationship."
Taube did go out and make some deals, and pretty soon came to be considered a part of the Koret family, serving on the company board for years. At one point, in a moment of panic when the company shares were selling for pennies—and then nothing—on the New York Stock Exchange, he was asked to take on the role of CEO. The company, then called Koracorp Industries, was bought by Levi Strauss & Co. in the early 1980s, and Taube headed back into the real-estate business. He also turned his attention to helping found the United States Football league, which played in spring and summer rather than fall, and became owner of the Oakland Invaders.
Despite his personal history, it was not until mid-adulthood that Taube began to reflect on Judaism's importance as a tradition, and his own responsibility to pass it forward. "It took a certain level of maturity for me to recognize who I was and what my mission in life had to be," he says—a mission that he now calls "the fight for Jewish survival."
When the Koret Foundation was born in 1979, Taube was named charter director and then, after Joe's death, president. He also launched his own philanthropy, which today consists of the Taube Family Foundation and the Taube Foundation for Jewish Life and Culture. The Koret Foundation, whose assets are around $300 million, is one of the country's largest Jewish-oriented charitable trusts. Koret donates to philanthropic activities in Israel, and makes significant contributions to major universities there, including Hebrew, Technion, Tel Aviv, Haifa, and Ben Gurion. Its domestic philanthropy is focused on Bay Area universities, charter schools, and K-12 education. The foundation's support for a museum in Warsaw is an innovative and exciting venture.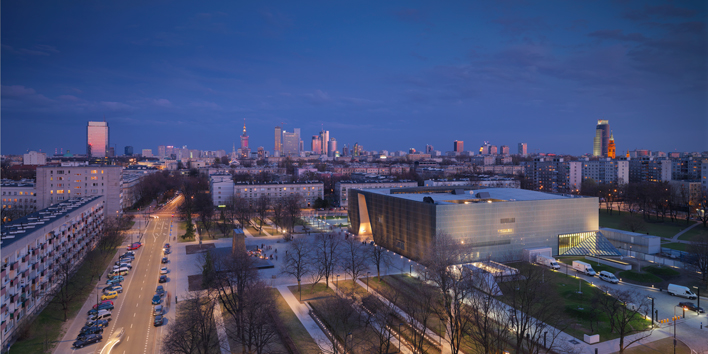 Rest here, weary travelers
The spark for the Polin Museum came in 1993. A civic initiative was inspired by the Holocaust Memorial Museum in Washington, D.C., opened that year. By 2005, historical and Jewish organizations had established a partnership with the city of Warsaw and the national culture ministry to pursue the idea of a museum.
Taube became involved after seeing a presentation by the Polish consul-general of Los Angeles. When Poland lost its Jewish population, it "was almost as if our culture had been amputated," Taube learned. The Nazis were not just bent on eliminating the Jewish people but also every trace of Jewish history and life. "They did that by destroying every synagogue," he says. "They burned books, they bulldozed cemeteries, they expunged city and university records of Jewish names." That day, Taube joined "a small army" spanning the United States and Poland bent on recovering this history.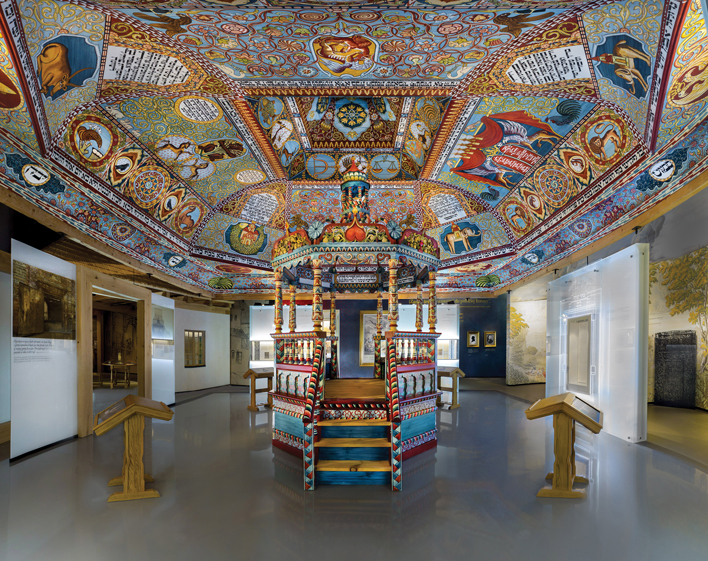 The municipality of Warsaw donated the land on the site of the 1943 uprising, facing Natan Rapoport's Monument to the Ghetto Heroes. Museum creators say they could have built elsewhere—D.C. or Israel, for example—but building the museum on the ground where the story takes place is powerful.
The Polish government contributed $80 million to erect the building. About $30 million from private sources created the exhibits. Donors included the Taube and Koret foundations, which committed $20 million between them, plus American donors Sigmund Rolat, Monica and Victor Markowitz, and Irene Pletka, and Polish donor Jan Kulczyk.
The museum traverses a millennium of Jewish life and culture in Poland, from the earliest period of Jewish settlement to the current revival of Judaism. The narrative begins in a forest—where Jews hid to escape persecution—with the legend of Polin, the museum's namesake. Weary Hebrew travelers arrived in Poland to the sound of birds chirping "po-lin, po-lin," which resembles "rest here" in their language. It seemed like a heavenly sign of their safe arrival.
Next is a handpainted medieval gallery. Visitors head into the village market, bursting with eggs, chickens, bread, and other goods. Wooden signs address trivia like "Is this fish kosher or not?" and "Why garlic is good." A fat goose—the holiday entrée of the Jewish tradition—roosts on one of the displays. Museum director Dariusz Stola, a historian with more than 25 years of Polish and Jewish research experience, offers me a seat on a wooden bench in the village pub.
"I want to improve the Jews' image of themselves. And I want the world to abandon its attempt to make Jews the victims."
One hundred scholars from the U.S., Poland, greater Europe, and Israel were involved in creating the exhibits' content, he explains. Graphics, maps, scenography, images, and light fill the walls of each room. The galleries include dozens of films and interactive multimedia stations. A theater hosts musical performances ranging from classic Jewish choirs to cabarets.
The museum's sleek, modern design, the result of an architectural competition, boasts a greenish glass façade and curved stone interior. Light pours in through the largest window in Poland. Outside, families are picnicking and playing catch on the lawn; couples are walking arm in arm. It is clear this is meant to be a place of healing and renewal.
The heart of the museum is the Core Exhibition, directed by Barbara Kirshenblatt-Gimblett, a longtime NYU professor of Eastern European Jewish culture. It features a timber-framed synagogue roof and vibrant interior ceiling, handcrafted to replicate a seventeenth-century structure in Gwo dziec, in what is now Ukraine. The 30-ton roof was constructed by volunteers without a single nail or modern tool, and the ceiling was decorated in painting workshops held at synagogues in three Polish cities. The bimah—the platform where the Torah is read during services—was also created this way.
Outreach is important to the museum, says Stola, and the construction workshops were a way of involving Poles in the very formation of the museum. A mobile exhibition has been going from town to town to raise appreciation of local Jewish history.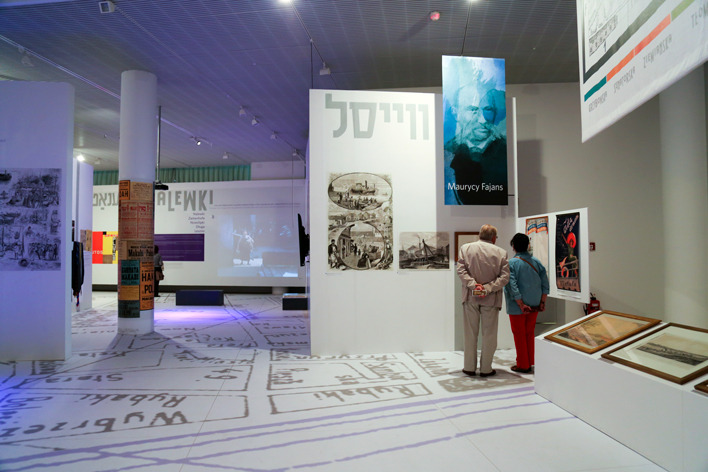 The hardest part of the exhibit to design was the post-war gallery, the museum team says. It was important that the Holocaust not be the final exhibit, to show that Jewish life went on. Only about 300,000 Polish Jews survived the war, which was followed by a time of uncertainty, emigration, and reintegration back into society. The final gallery presents the efforts of rebuilding life in Poland, and the cultural and social achievements by the Jewish community in the decades since. This post-trauma chapter, along with the vibrant exhibits chronicling a millennium of preceding life, emphasizes the enduring contributions of the Jewish people to Polish culture.
Changing the story
After 32 years, Taube is now stepping aside from the Koret Foundation. He will keep busy mentoring local founders of business startups and managing a donor-advised fund at Stanford. There are also murmurs of his involvement in the creation of an off-season pro-basketball league. But his Jewish philanthropy remains closest to his heart.
"I want to improve the Jews' image of themselves," he says. "And I want to see the world abandon its attempt to make Jews the victims."  The development of the Polin Museum has been the "fulfillment of a dream," he says.
The museum anticipates at least half a million visitors in its first year. An effort is underway to bring all Polish students to the museum at least once during their schooling. Another initiative aims to sponsor the visits of students from Israel and the United States.
As Pitr Wi licki of the Jewish Historical Institute puts it: "There is no history of Poland without the Jews, and no history of the Jews without Poland." This new facility offers the public "a way to honor those who died by remembering how they lived—and how they lived for 1,000 years," says Kirshenblatt-Gimblett. The Polin Museum is a place where endurance triumphs over evil, and destruction and death bow to life. A tribute to ineradicable history and joyful existence, it fills the air with its own gentle birdsong: L'chaim! L'chaim!